Residential Report:
13,563 single-family parcels
5,875 residential condos (class 2-99)
326 class 2 multi-family parcels
The median estimated Fair Market Value of a single-family home in Palos in 2020 was $282,070.
The median sale value of a single-family home in Palos in 2019 was $277,000.
Read the full 2020 Palos Residential Reassessment Report for more real estate and assessment data.
Interactive Map: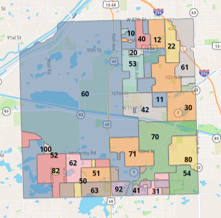 Find your neighborhood, and data about single-family homes in Palos:
number of homes and most common type of single-family homes in each neighborhood
sale data for each neighborhood
assessment data for each neighborhood
View the interactive neighborhood map here.
Commercial Report:
374 apartment buildings
142 office buildings
373 commercial/retail buildings
121 industrial buildings
Read the full 2020 Palos Commercial Reassessment Report for more valuation details about income-producing properties.
Total Assessed Value Changes
Initial property assessments are determined by the Assessor's Office after the office has heard all assessment appeals. Property owners can also file an appeal with the Cook County Board of Review before final assessed values are set.
The following report details the effects of appeals at the Board of Review on the assessed value of Palos Township as well as the largest parcels in this township.
Palos 2020 Total Assessed Value Report
For a complete dashboard of 2020 total assessed values for each township, read the Township Assessed Value Report: Tax Year 2020.